Finnleo Himalaya Series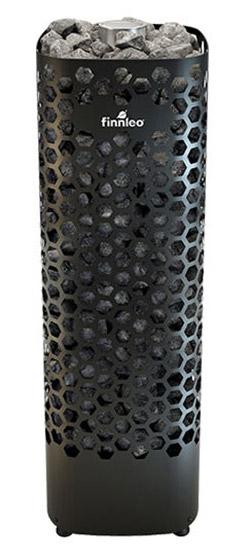 Himalaya – the name of the legendary mountain range means "home of the snow". Like its namesake, the secret of Finnleo's Himalaya also lies in the natural water cycle. The new sauna stove conceals a water container featuring ingenious BWT technology, which humidifies the sauna room while it is warming up. So when you climb up onto the benches, the air is already pleasantly humid and easy to breathe. You can enjoy the rich warmth on your skin already at a slightly lower temperature.
The Pure 2.0 Control is paired with the Himalaya, Piccolo, and Designer Series heaters for reliable, consistent sauna bathing with an attractive look.
Dimensions: 12″ x 15″ x 40-1/2″
Floor standing rock tower heater with 210 lbs of rocks
BWT (Bio Water Technique) Ready
Match with Pure 2.0 Control
Himalaya 7 (6.8 kW) for 175-350 cubic feet
Himalaya 9 (9.0 kW) for 310-500 cubic feet
| Himalaya Heater | Himalaya 7 | Himalaya 9 |
| --- | --- | --- |
| Sauna size (Cu. Ft.) | 175 – 350 | 310 – 500 |
| Heating Power (kw) | 6.8kw | 9.0kw |
| Vulcanite Rocks (lbs) | 210 | 210 |
| Dim.(inch)(WxHxD) | 12 x 15 x 40.5 | 12 x 15 x 40.5 |
| Control Unit | Pure 2.0 | Pure 2.0 |
Elite Touch Control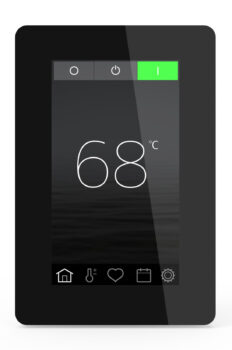 The sauna is a place of rest, relaxation, and serenity. Finnleo believes that experience should start with a control and app designed to let you control your sauna from anywhere in your WiFi enabled home.
The new Elite control (with App) from Finnleo is packed with advanced features, thanks to its internal processor and operating system. In addition to highly personalized settings, the Elite control can be individually programmed according to your own schedule.
Touch screen operation for easy control
Flush mount or surface mount
When flush mounted, includes choice of trim ring in four finishes. Mount inside or outside the sauna room
Intelligent Start (pre-heat sauna when you want it)
Calendar Programming (set your sauna to work according to your schedule)
User Favorites (the control remembers user preferences)
Includes "FinnleoHeat™" app for Android and iPhone
Optional Heater Guard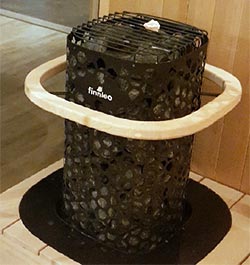 For an extra layer of safety, Finnleo provides a simple and attractive solution with the Himalaya Heater Guard. Engineered specifically for the Himalaya tower style heater, the wooden heater guard will keep you a safe distance from the heater as you move around it. Available in a 2 sided guard, 3 sided guard or a full wrap around guard.