Finnleo HM IS44 InfraSauna – Combination Infrared and Traditional Sauna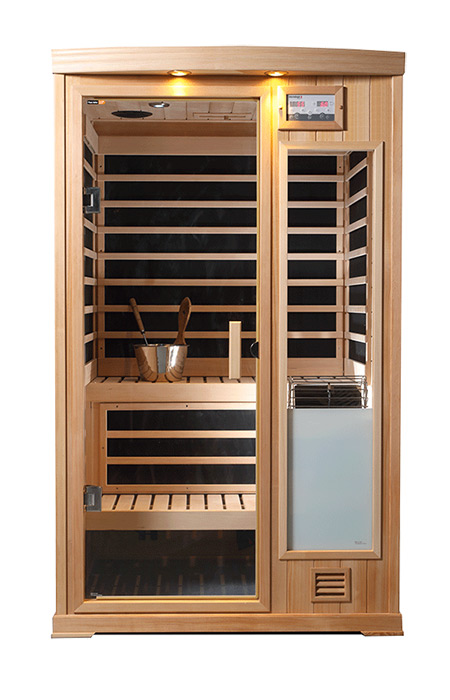 Dimensions: 48″ x 48″ x 79″ high
Low EMR/EF CarbonFlex Infrared panels
Lowest EMR/EF of any infrared sauna bathing system – beats even Sweden's tough standards
Clear Canadian Hemlock interior and exterior
Exterior finished with biodegradable wood treatment for luxurious look and for ease in maintenance
Sound system
Ceiling Overhang with internal puck lighting
Interior low voltage lighting & color therapy lighting system
Built-in floor with vinyl surface
Simple hook & pin panel design; easily installs in less than an hour
Stainless steel wet/dry sauna heater
Digital controls
The Lowest EMR + EF available
Simply put, no other infrared sauna system minimizes your exposure to EMR and EF better than Pure Infra. Our exclusive patent-pending technology means Pure Infra saunas produce less EMR and EF than sanctioned by Sweden's radiation standards—the toughest in the world.
Better for everyone
Pure Infra saunas heat quickly and efficiently with a tap of the touchscreen control. A Pure Infra sauna also heats up near- instantly to your set comfort level while using up to 20% less energy than other systems. That means fewer energy resources are used to provide the safest, most comforting infrared heat bathing experience available— and that's better for everyone.
Music to your ears
Every Pure Infra sauna model includes a sound system that provides crystal clear pleasure from your favorite MP3's or the radio.
Easy on the eyes
Pure Infra saunas include low voltage lighting & color therapy lighting system, with soft valance lighting, ceiling reading lights and color light therapy. This allows you to relax in the soft and diffuse valance lighting, use color to create an energizing ambiance, or simply enjoy your favorite magazine or book without straining.